Blog Home
New Movies This Month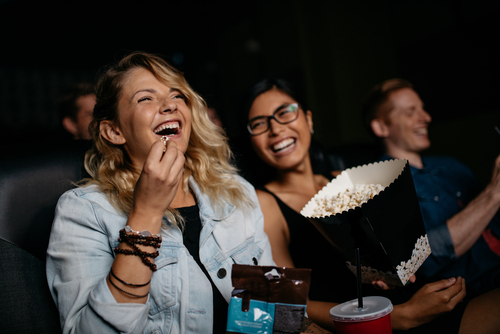 Last month we gave you some great ideas for weeknight dinner ideas. This month, we're adding a little excitement to your weekends. Head out to the theater and catch one of these new flicks.
Smurfs: The Lost Village (April 7) — Smurfette (Demi Lovato), Brainy (Danny Pudi), Clumsy (Jack McBrayer) and Hefty (Joe Manganiello) use a special map that guides them through the Forbidden Forest, an enchanted wonderland that's filled with magical creatures. The best friends must race against time and the evil wizard Gargamel (Rainn Wilson) to find a mysterious village. Their adventure leads them on a course to discover the biggest secret in Smurf history.
Going In Style (April 7) — Lifelong buddies Willie (Morgan Freeman), Joe (Michael Caine) and Al (Alan Arkin) decide to buck retirement and step off the straight-and-narrow for the first time in their lives when their pension fund becomes a corporate casualty. Desperate to pay the bills and come through for their loved ones, the three men risk it all by embarking on a daring adventure to knock off the very bank that absconded with their money.
Mine (April 7) — Left stranded after a mission goes awry, a U.S. soldier (Armie Hammer) must single-handedly fight the enemy while surviving in the desert.
Sleight (April 28) — After his mother's death, a young street magician (Jacob Latimore) turns to dealing drugs at parties to support his little sister. When she is kidnapped by his supplier, he uses his sleight of hand and keen intelligence to find her.
We hope you enjoy one of these new movies. Located near your Barrington Place home is Marcus Palace Cinema, where you can enjoy these and many more movies. Find their website and directions right here. Don't forget the popcorn! Check back next month for more information on apartment living and local hotspots. Thanks for reading Barrington Place blog!